Soiltech AS and Well Expertise AS have entered into a frame agreement for the provision of drilling waste management on drilling projects managed by Well Expertise AS. The contract has a duration of 5 years.  
Well Expertise is a Norwegian Well Management Company that provides a one-stop shop for E&P companies related to exploration, appraisal, development, PP&A and CCS.
Stig H. Christiansen, CEO in Soiltech, comments; "We are very pleased to be entering into this frame agreement with Well Expertise, and we look forward to provide our best available technology and services on drilling projects managed by a leading company like Well Expertise".
Morten Laget, BDM and Drilling Superintendent, Well Expertise: "Soiltech delivers the best available slop treatment technology in the industry, and Well Expertise has been using Soiltech's services for our Well Management clients since 2017. Well Expertise is very happy to extend the frame agreement with Soiltech and the first client to make use of the agreement will be Wellesley for the HPHT well Carmen, planned drilled with Deepsea Yantai Q2 2023."
About Soiltech
Soiltech is an innovative cleantech service provider specializing in the treatment, recycling and responsible handling of contaminated water and solid industrial waste streams. Soiltech's purpose is to provide clean technologies for a greener future through the reduction, recovery and reuse of contaminated water and solid industrial waste streams.  Soiltech designs, builds, owns and operates its treatment technologies, providing services in close cooperation with the customer on their sites. The Company also offers biodegradable chemistry and solutions for treatment of produced water and contaminated water in the aquaculture and other industries.
Soiltech is headquartered in Norway, and operates in Norway, UK, the Netherlands and Abu Dhabi.
Soiltech is listed on Euronext NOTC in Norway under the ticker SOIL
www.soiltech.no.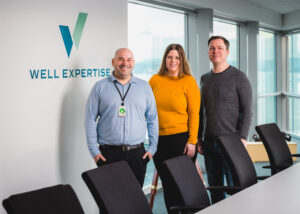 From the left: Erik B Røvde, Operations Manager Europe in Soiltech, Brit Gurli Landa, Contracts Administrator in Well Expertise and Morten Laget, Drilling Superintendent in Well Expertise.